HANGAR FOUR GRILL AND BREW
Hangar Four Grill and Brew is open for breakfast, lunch, appetizers, private parties, BBQ's and special events. The restaurant accommodates up to 100 guests and is adjacent to an outdoor deck that can seat an additional 80 guests. The restaurant menu is refreshed by our culinary staff and offers a range of items using fresh ingredients. Below is a sample of the special banquet menu and daily restaurant menu. Special requests can made with a minimum of two weeks notice.
All food and beverage consumed on site must be purchased from the Golf Club at Moffett Field. Prices are subject to change without notice. After hours parties are subject to additional charges. Linens are available upon request for an extra charge.

The food is as memorable as the experience.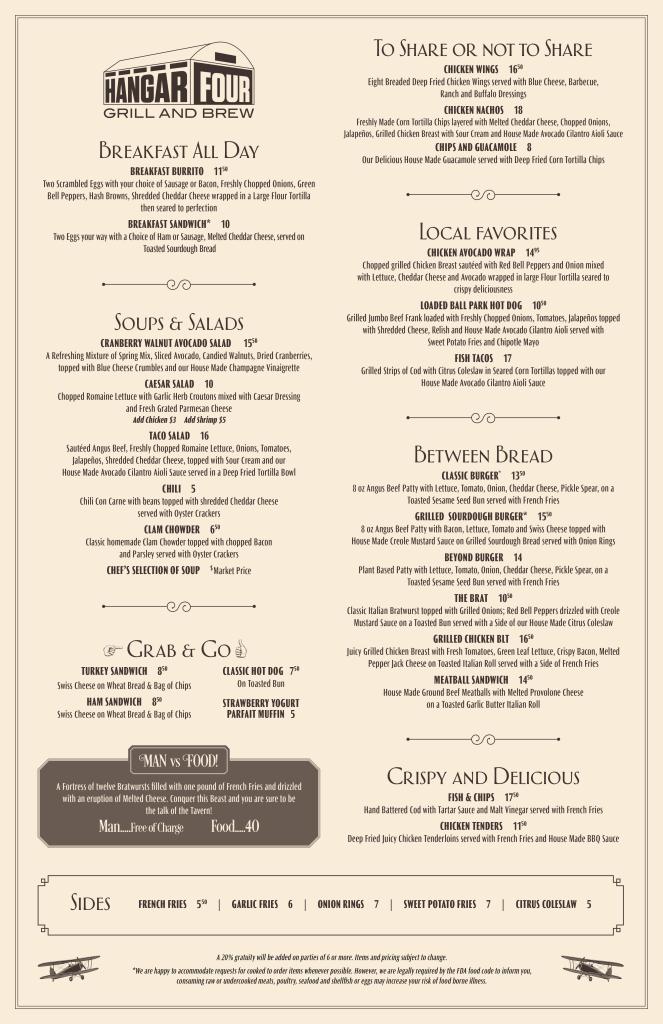 Full Service Bar
Restaurant and full-service bar open daily at 8:00 AM, serving breakfast, lunch and dinner.
Special events are our specialty! Events can be booked for luncheons, retirement parties, BBQ's, Dinners, etc.
Menu includes new entrees, fresh salads, and a hearty cafe fare. Old favorites are still available for our avid golfers that want to eat then tee it up!
For additional information or Special Event Inquiries please contact Tucker Williams, General Manager, at (650) 386-0727, or via email at twilliams@moffettgolf.com