Unique Location, Unique Experience
In a twist of irony, the original, very-flat course was named the "Hill Course" in honor of Captain Arthur S. Hill, the Commanding Officer at Moffett when the facility opened in 1959. Designed by Bob E. Baldock, the course began as a 9-hole venue before expanding to 18-holes 10 years later. Originally managed by the Navy, Air Force, and then NASA, The Golf Club at Moffett Field is now managed by OB Sports/Troon Golf.
The Golf Club at Moffett Field is more than a fair test of golf in the Bay Area. It's location at the now NASA-leased Moffett Federal Airfield is an experience all its own – sitting adjacent to the iconic Hangar 1 and airfield it is not uncommon to see some very cool activity on the adjacent runways. Moffett Federal Airfield is also home to the NASA Ames Research Center, as well as several Burrowing Owl preserves located next to the course. If you get a chance a visit to the Historical Society Museum that sits right next to Hangar 1, definitely take the opportunity as you will get a look at 100 years of history at Moffett. With views of the surrounding mountains and San Francisco Bay in the background, The Golf Club at Moffett Field offers some of the best greens in the Bay Area, and is truly a hidden gem worth visiting. The course measures in at 6,572 yards from the furthest back Blue tees and is a par 72 with kikiyu grass fairways and roughs, and poa annua greens.

Youtube Channel on how to best play the course coming soon!
Scorecard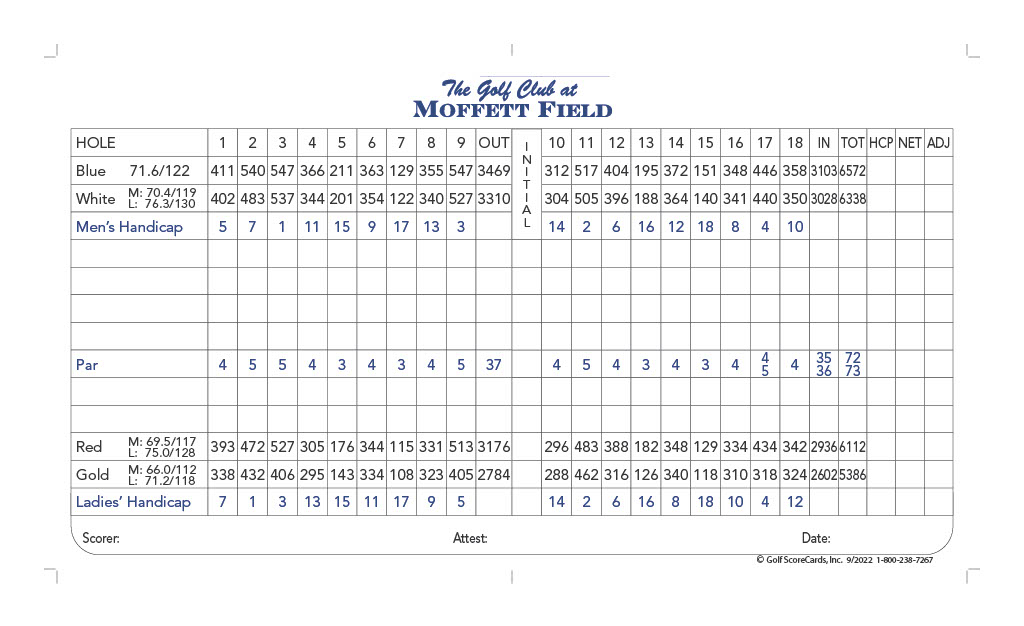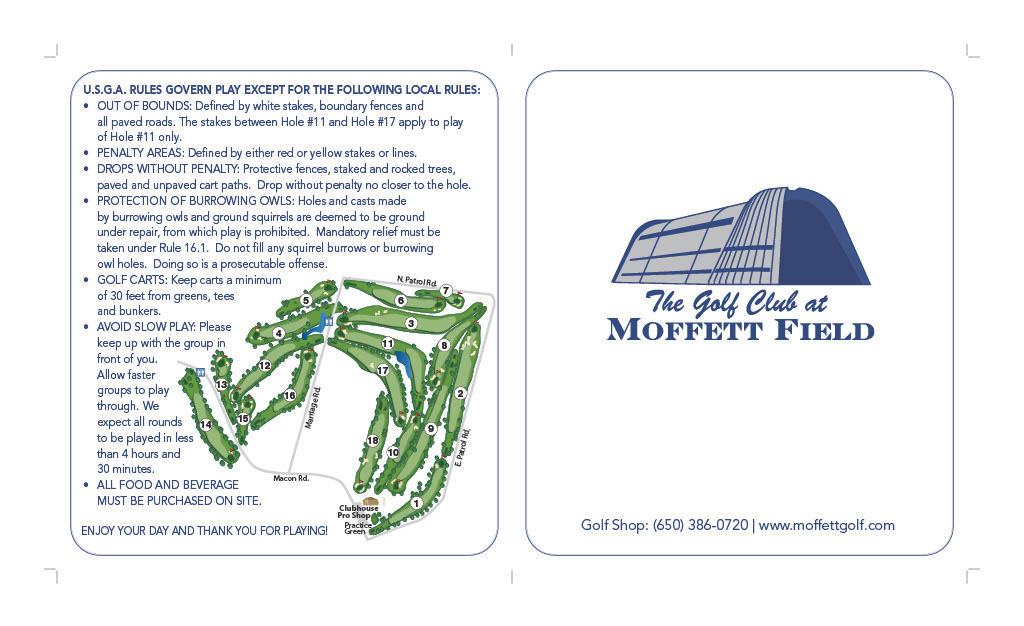 Day of Play: Coming To The Golf Course
The Golf Club at Moffett Field is located inside the Moffett Federal Airfield and there are three entry gates to the airfield, all of which have different hours of operation. Please see below for hours so you can plan your trip accordingly.
Main Gate: Open 24 hours a day, 7 days a week and is located of of Highway 101 (Moffett Blvd/NASA Pkwy) exit.
Ellis Street Gate: Open Monday-Friday 6AM to 6PM. (Excluding Holidays)
5th Avenue Gate: Open Monday-Friday 4AM TO 10PM. (Excluding Holidays)
To enter the NASA gates in your vehicle you and your passengers need to have the following Identification for the NASA security officer:
Driver: The driver must have a current valid driver's license from a US state.
A driver's license from another country will not work.
Passenger: Each passenger must have a current valid driver's license from a US state OR a current passport.
A government-issued identification card other than a passport will not work.
Watch your speed when driving in Moffett Federal Airfield
Moffett Federal Airfield has multiple speed limits that are strictly enforced by NASA Airfield Police. Please be mindful of the speed limit to avoid an unneccessary ticket.